VCL-2709, IEEE C37.94 to E1 Converter
Description
The VCL-2709, IEEE C37.94 to E1 Converter is a ruggedized and robust, sub-station-hardened protocol converter that converts IEEE C37.94 data to E1 data. VCL-2709 supports point-to-point applications.
The most common application for the VCL-2709 converter is for augmenting legacy IEEE C37.94 data transmission over an E1 network between two sub-stations. By installing a VCL-2709 converter, the existing IEEE C37.94 interfaces from protection relays can be transmitted over the E1 network without incurring large capex, or without the tiresome task of having to replace or rewire the IEEE C37.94 Relays which need to be interconnected to the far end substations over E1 (SDH) transmission links.
Number of C37.94 interfaces per card: 1
Number of interfaces: 1 E1 (2.048 Mbit/s) Interface (Electrical G.703)
Data Sheet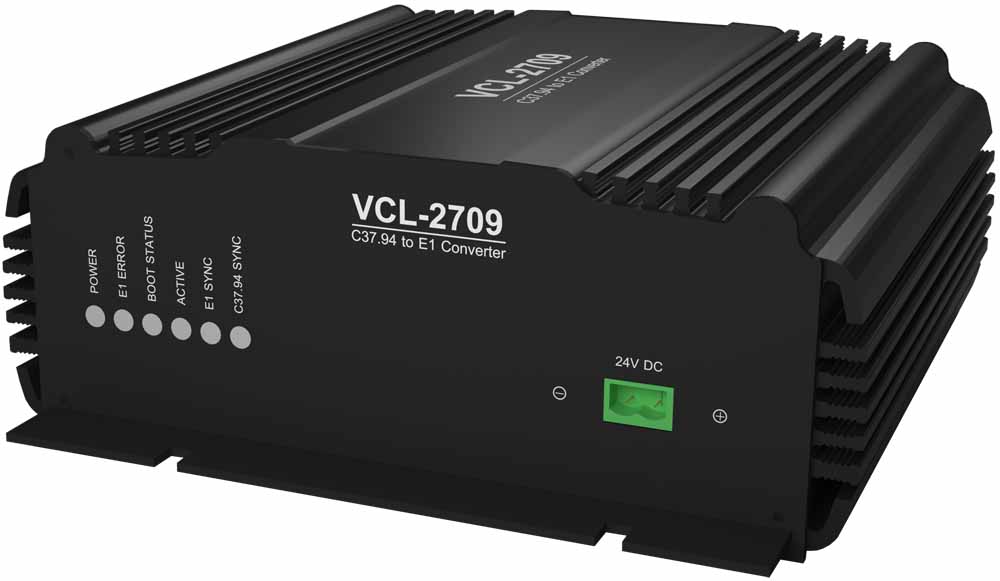 VCL-2709 meets and complies with the IEC-61850-3, EMI, EMC, Surge and Temperature specifications making it suitable for sub-station installations to provide uninterrupted service even in the most demanding and harsh environments.
Technical Features
Connectors:
Power: Terminal Block, 2-Pin Supply Connector
IEEE C37.94 Interface: ST / LC Connector (SFP)
E1 Interface: RJ45 (F) / BNC (F) Connector
Chassis:
Power Supply:
Power Supply Options (Internal): 24V DC, 48V DC
Power Supply Options (External Adapters): 110V DC and 220V DC.
C37.94 Interface Specifications:
Interfaces per card: 1 Tx, 1 Rx
Standards: IEEE C37.94
Optical connector: ST or LC (SFP)
Optical Transmitter: LED or Laser
Optical: 820nm/850nm Multi-Mode
1310nm/ 1550nm Single Mode (Modulation as per IEEE C37.94)
E1 Interface Specifications:
Number of interfaces: 1 E1 Interface
Conformity (electrical): G.703
Frame structure: As per ITU (CCITT) G.704
Code: HDB3, 50 % Duty Cycle
Nominal Impedance: 120 Ohms balanced / 75 Ohms Unbalanced
Nominal pulse width: 244 ns
Pulse mask: As per ITU (CCITT) Rec. G.703
Jitter tolerance: As per ITU (CCITT) G.823
Frame alignment: As per ITU (CCITT) G.732
Compliance/ Regulatory:
Meets CE requirements
Complies to IEEE and IEC standards
Complies with FCC Part 68 and EMC FCC Part 15 and CISPR 22 Class A
Operation ETS 300 019 Class 3.2
Transportation ETS 300 019 Class 2.3
Application Diagrams

Data Sheet
Data Sheet